TRIBE x Women In Business & Tech Expo Partnership Announcement
3rd July 2023
TRIBE is an exclusive membership dedicated to building the next generation of female leaders in male-dominated industries through educating, coaching and community.
TRIBE was co-founded by Lauren Windebank, Founder of tech recruitment agency Roma Black, and Megan Stovell-Bone, Transformation Programme Lead at Cloud Software Group.
Combining their knowledge of the barriers women face building their careers in tech, they launched TRIBE with a shared vision of a future where women are leading the way.
In October of last year, when TRIBE was being shaped, Lauren and Megan attended the Women in Business & Tech Expo to learn how women are enriching the tech industry.
As a start-up business, the event was hugely insightful in gaining an understanding of what the state of tech looked like for career-driven women wanting to thrive. They heard about the gender-biassed issues women continue to face, ideas for how this could change for the better and most importantly, their aspirations for the future.
After spending the day speaking with incredible women dedicated to empowering one another, Lauren and Megan came away inspired by the potential women had to shape the future of tech through community.
"As co-founders building our start-up business TRIBE, we attended the Women in Business & Tech Expo to get inspired and network with like-minded women." says Lauren Windebank.
"What came out of the event was so much more. We struck a partnership that has helped shape our entire business and are thrilled to return this year as a partner."
This year, they'll be visiting once again but as an exhibitor for TRIBE and in partnership with WIBTE. This will be a great opportunity for women in tech to learn how they can reach their leadership potential while building an empowering community of women to help them achieve their goals.
Lauren and Megan also look forward to educating companies on how they can nurture and empower female talent, both through the TRIBE developmental journey and newly launched Changemakers programme – which aims to give male leaders the tools and confidence to support and elevate the female leaders of tomorrow.
It takes a TRIBE to create change. We look forward to seeing you there.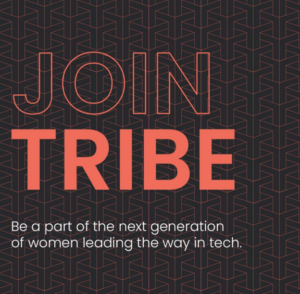 Back to content