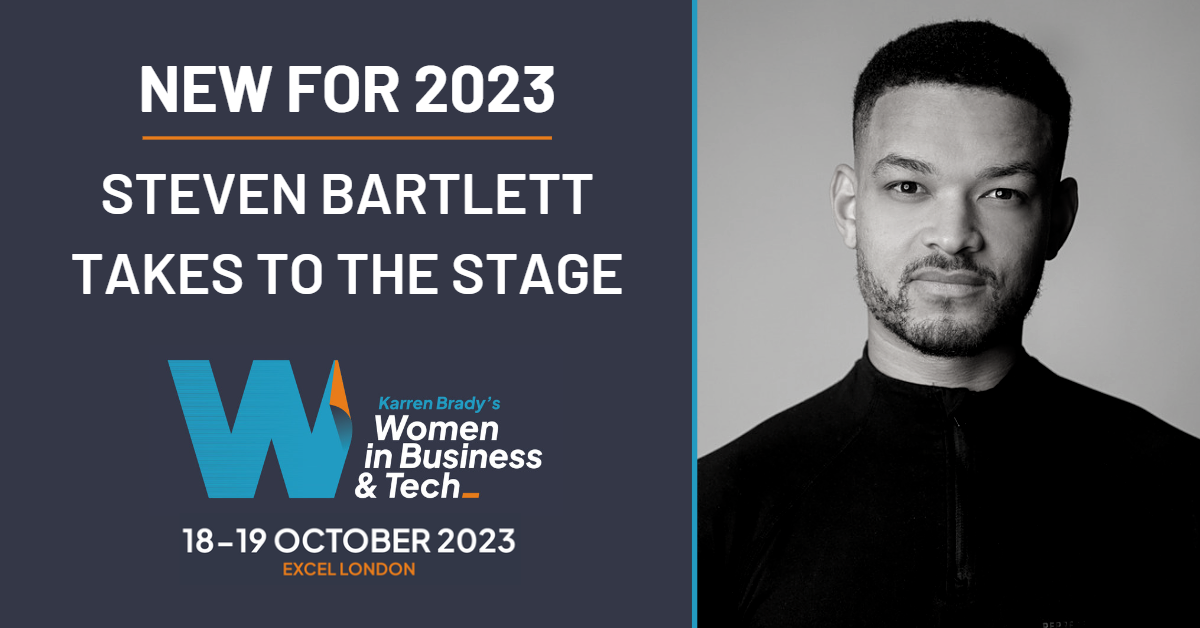 Steven Bartlett to Headline Karren Brady's Women in Business & Tech Expo
13th March 2023
Steven Bartlett is headlining Karren Brady's Women in Business & Tech Expo's flagship London event in October. The serial entrepreneur, best-selling author dragon and host of Europe's no.1 podcast 'The Diary of a CEO' will be discussing his journey as a founder and CEO in the marketing and technology industries.
Steven Bartlett is the 30-year-old Founder of the social media marketing agency Social Chain. From a bedroom in Manchester, this university drop-out built Social Chain Agency, which would become "Social Chain AG" – a social commerce marketing group. He led Social Chain AG as Co-Founder & Co-CEO's with Wanja Oberhof until he stepped down in 2020 to pursue other interests. The marketing-commerce group reached a market valuation of more than $600m and is currently listed on a European stock exchange.
Steven has invested in and joined the board of Huel, which is the UK's fastest growing e-commerce company internationally, as well as invested in, and taken a role as an advisor in Atai life sciences – a biotech company working to cure mental health disorders. Other investments focus on blockchain technologies, biotech, space, Web 3 and social media. More recently, Steven has invested in Flight Story & Third Web.Flight Story is a company focused on building resilient retail investor communities around great public companies.
Karren Brady's Women in Business & Tech Expo is the industry-leading hiring event for those who aspire to thrive in their professional careers and grow their businesses. The award-winning female-led event provides inspiration, guidance, recruitment opportunities, and services to supercharge attendees professional journey at all stages within the technology and business sectors.
Organised by Hub Exhibitions, Karren Brady's Women in Business & Tech Expo has fast become one of the go-to events for organisations and professionals to diversify their teams, develop commercial growth strategies, attract new recruits and meet like-minded partners.
Commenting on the 2023 keynote announcement, Christie Day, Group Event Director at Hub Exhibitions, said: "We are thrilled to have Steven join us at Karren Brady's Women in Business & Tech Expo. Steven has always spearheaded diversity and inclusion across his businesses and is focused on inspiring a new generation of entrepreneurs and creators from an ethnically diverse background.
"In 2022 we welcomed more than 3,500 professionals and 60 exhibitors across two days, providing the in-demand opportunity for professionals to network, collaborate, meet employers develop skills and share insight in one space. The 2023 edition of our flagship event is anticipated to be our biggest instalment of the show ye and we look forward to welcoming professionals at all levels."
For more information on the upcoming events or to register your interest, click here: https://wibtexpolondon.co.uk/contact/ 
Back to content