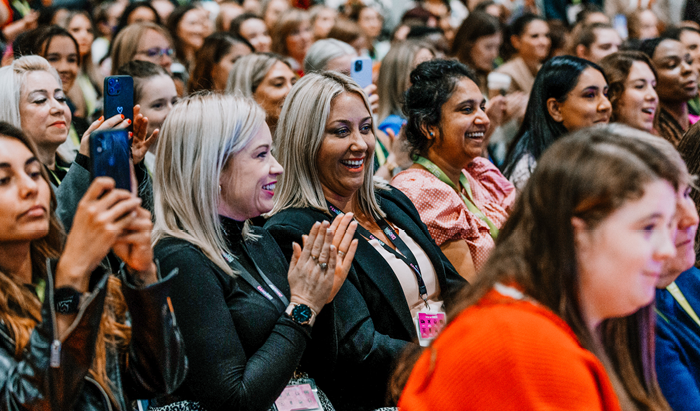 First look: Leading sessions at Women in Business & Tech Expo
10th July 2023
Attended by thousands of aspiring entrepreneurs and tech professionals across the country, Karren Brady's Women in Business & Tech Expo is the industry-leading hiring event for those who aspire to thrive in their professional careers and grow their businesses.
Since our last event in October 2022, we have seen more women in the UK start new businesses (150,000 more to be exact and more than twice as many as in 2018), one in ten working women in the UK is now involved in start-up entrepreneurial activity and 39.6% of FTSE 100 directorships are now held by women.
While these increases highlight the positive change happening across the UK, it also proves how important events, such as Karren Brady's Women in Business & Tech Expo (WIBTE), are to continue this movement.
Whether your objective is to meet a new employer, hear from world-class speakers on their own career journeys and top tips on how you can fulfil your potential or to network with likeminded business and tech professionals, Women in Business & Tech Expo is the platform that will enable you to reach your goals.
The theatres
Throughout the two-day event, thought leaders and industry-leading experts will take to our four themed theatres to bring you the latest advice, insight and strategies to take your career to new heights.
Keynote
WIBTE's answer to Glastonbury's Pyramid Stage. The main stage will provide inspirational talks on the most current topics for women in business and tech.
Women in Tech
Calling all the tech professionals in the room. This theatre will feature sessions focused on how to get and progress a career in tech.
Women in STEM
STEM's home at WIBTE. This stage will share seminar content on how to get and progress a career in science, technology, engineering, and mathematics.
Women in Business
This theatre is for the entrepreneurs in the room. Sessions on this stage will discuss how to support employees, as well as how to learn about new products and services to take your business to the next level.
The content
Here is a sneak peek at some of this year's leading themes and sessions that will feature across our four theatres to whet your appetite:
• The Power of Inclusion
• Diversity beyond Gender
• Overcoming Ordinary Obstacles to Build an Extraordinary Life
• How to Build Mission-Driven Online Communities
• ADHD, not just for boys!
• Family, Freedom, Fortune: The E-Commerce Advantage
• The art of emotional intelligence: Driving successful business results
• Navigating neurodiversity by UI testing on neurodiverse people
• D*ck-less success
• Lessons from my career journey in Tech and Leadership
• Using LinkedIn to Increase Your Leads
We will be announcing the full list of expert speakers joining Vice Chairwoman of West Ham FC Baroness Karren Brady CBE and Steven Bartlett, serial entrepreneur, best-selling author, dragon and host of Europe's no.1 podcast 'The Diary of a CEO', on the programme very soon.
With just over three months to go until the doors of our Women in Business & Tech Expo open, register for your free place to attend the award-winning event and join the movement.
Register here.
Back to content